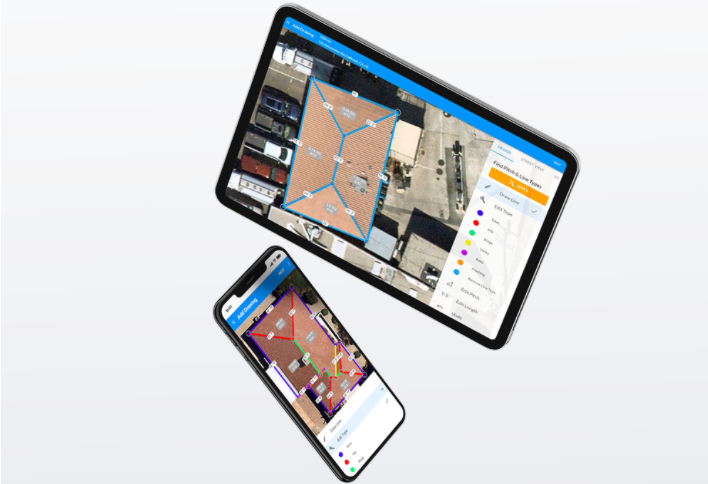 If you want to transform your roofing company from a run-of-the-mill business to the go-to place for roofing solutions, you'll need roofing software. Software provides more efficiency and can speed up your sales process significantly.
But that's not the end of it—of course, you'll need to select the right roofing software to enjoy those benefits. However, choosing the perfect one for your business can get tricky. It's even more daunting if you're transitioning from pen and paper to roofing business management software.
Luckily, there's a simple way to select the best software. There are certain must-have features and functionalities for every roofing platform.
In this article, we'll learn what these features are, what roofing software is, and why you need it. We'll also highlight why Roofr is the best roofing software for you. Let's get to it, shall we?
What is Roofing Software?
Roofing software is essentially a program that facilitates the roofing process, from acquiring clients to installing a roof. It has features that aid contractors in completing their jobs faster and more efficiently.
For instance, most roofing software comes with customer relationship management, roof measurements, proposal creation, estimation, project management, and more. These tools are crucial in establishing a business as competent and suitable for the job.
Additionally, roofing software is usually cloud-based. This means you can use it anywhere, as long as you have an internet connection.
Do you Need Roofing Software?
Truthfully, you can't compete in today's market without the use of roofing software. The most successful roofing business owners leverage software to establish themselves as experts in the industry.
The roofing industry has a market size of $56.1 billion as of 2022. However, not every roofing business benefits from this. The businesses that do are the ones that find the best roofing software to integrate into their operations.
Here are some reasons why it's crucial to use roofing software as a business.
Increases Revenue
Every business wants to make profits, but you can't pay your workers, scale your business, or even keep your business going without revenue. Fortunately, roofing software helps you maximize your revenue generation.
Platforms like Roofr help you measure roofs without having to physically go to the job site. This can reduce the time it takes to create estimates and quotes for prospective clients, and the faster you can get it done, the earlier you can move onto other clients.
Moreover, you can turn potential clients into qualified leads with functionalities like Roofr's Instant Estimator. We're talking about creating estimates within seconds—that's sure to increase the revenue you draw into your business.
Improves Productivity
As we've mentioned, roofing software streamlines your operations by handling things like roof reporting, roof measurements, and proposal creation. This allows you to focus on growing your business. Your sales team, for instance, can concentrate on addressing sales problems instead of creating estimates.
Increases Customer Satisfaction
Did you know that businesses with happy customers are likely to bring in close to 6 times more revenue than businesses with dissatisfied customers? This means that keeping your customers happy is vital for your business.
One way to do that is to provide quality service. Roofing software allows you to produce roof reports faster, make instant estimations, craft signature-worthy proposals and more.
Your customers can rest assured that you'll finish the job on time and correctly. You can even keep them in the loop with CRM features.
The bottom line: you need to start using roofing software like Roofr today.
Features of a Great Roofing Software
The best roofing software allows users to do the following.
Create Estimates and Invoices
As a roofing business, you'll be constantly creating estimates, sending them to clients, and managing them on the go. That's why the best roofing software should have tools that allow users to make estimates and invoices.
Roofr, for instance, allows users to create estimates in seconds using its Instant Estimator tool. All you need to do is share the estimator link on your website. Your clients can get estimates directly from you, reducing your drop-off rates.
This function also facilitates finance tracking, as you get an idea of your budget from the start. Moreover, there are templates you can use to streamline the estimation process. You can even use previous quotes to create a new estimate for your clients.
Once done, you can email these estimates to your clients hassle-free.
Capture Quality Leads and Signatures
The best roofing software helps you capture leads and close more clients efficiently.
Roofr in particular enables you to get from lead to signature 10 times faster. You can get roof reports within hours, create a quote from the report, and craft stunning proposals that'll get signatures. That's one trick to capturing quality leads efficiency.
With Roofr, you can also collect information and get contracts signed right from the app. Additionally, you can organize leads and contact them from the app once you have a device. After all, it's cloud-based.
This quality of customer experience will earn you more loyal customers and can even lead to referrals.
Create Reports
Reports are essential for roofing businesses, as they give you insight into what's working and what can be improved. That way, you'll know whether you're on track to meet your business goals.
Roofr allows you to report on all the critical aspects of your business. From estimates to material orders, you'll get an overview of your business' performance.
The best roofing software also allows you to:
Submit material orders
Automate repetitive tasks
Send emails
Build a budget
Use a mobile app
Upload videos and photos on-site
Accept payments
Before you decide on which roofing software is the best for your business, make sure it checks these boxes. Otherwise, you'll end up with run-of-the-mill software that does little to maximize your returns.
Why Roofr is the Best Roofing Software
There are several roofing software platforms on the market, and most of them have some of these features as well. However, you'll likely need a complete toolbox for your business.
Roofr checks every box in that regard. What's more, you can book a demo to try out the amazing software. You can even use a free plan if you're not quite ready to commit to a software yet.