Video editing software is an integral part of your creative agency's workflow. Whether a quick social media ad or a full-length documentary, your video editing software can make or break the final product. But with a lot of options, how do you know what you're using is the best?
This blog will discuss Adobe Premiere Pro and why it's the best video editing software for your creative agency. We will walk you through why it is the perfect fit for your business and help you understand how it can benefit you and your employees.
The Adobe Premiere Pro
Adobe Premiere Pro is the industry standard in editing software. It's used in Hollywood and the entire filmmaking industry. Apart from that, it's also an excellent choice for small and mid-sized creative companies.
Adobe Premiere Pro has many features that make it easy to create professional-looking videos quickly and painlessly. This includes timeline and editing tools that are easy to use, even if you are new to video editing.
Interface
Adobe Premiere Pro is more intuitive and easier to use than its competitors. The interface is simple, with intuitive buttons that are easy to find. The color workspace has been simplified, making it more straightforward for you to explore different options. New features such as the multi-camera edit add further ease of use by allowing you to make edits simultaneously across multiple files and file types.
Fast Rendering
Another great feature of Adobe Premiere Pro is the ability to render in the background. As a result, you can work on your other projects while the rendering takes place, saving precious time.
This feature is handy if you are working on a large video project that you need to render in several parts or if you need to generate multiple versions of a project quickly.
Performance
Adobe Premiere Pro is a powerful tool with a faster playback speed than the previous versions. This tool makes switching between timeline tracks fluid and convenient.
The editing tool is easy to learn and use, even for beginners. It works with the end user in mind. The learning curve is minimal, so even if you are new to the world of editing software, you can become an expert in no time. 
Application of LUTs and Looks
Applying LUTs and Looks is just one click away as they're integrated into Lumetri Color. Adopting a "one-click" approach makes it easy for you or your team members to apply the look they want.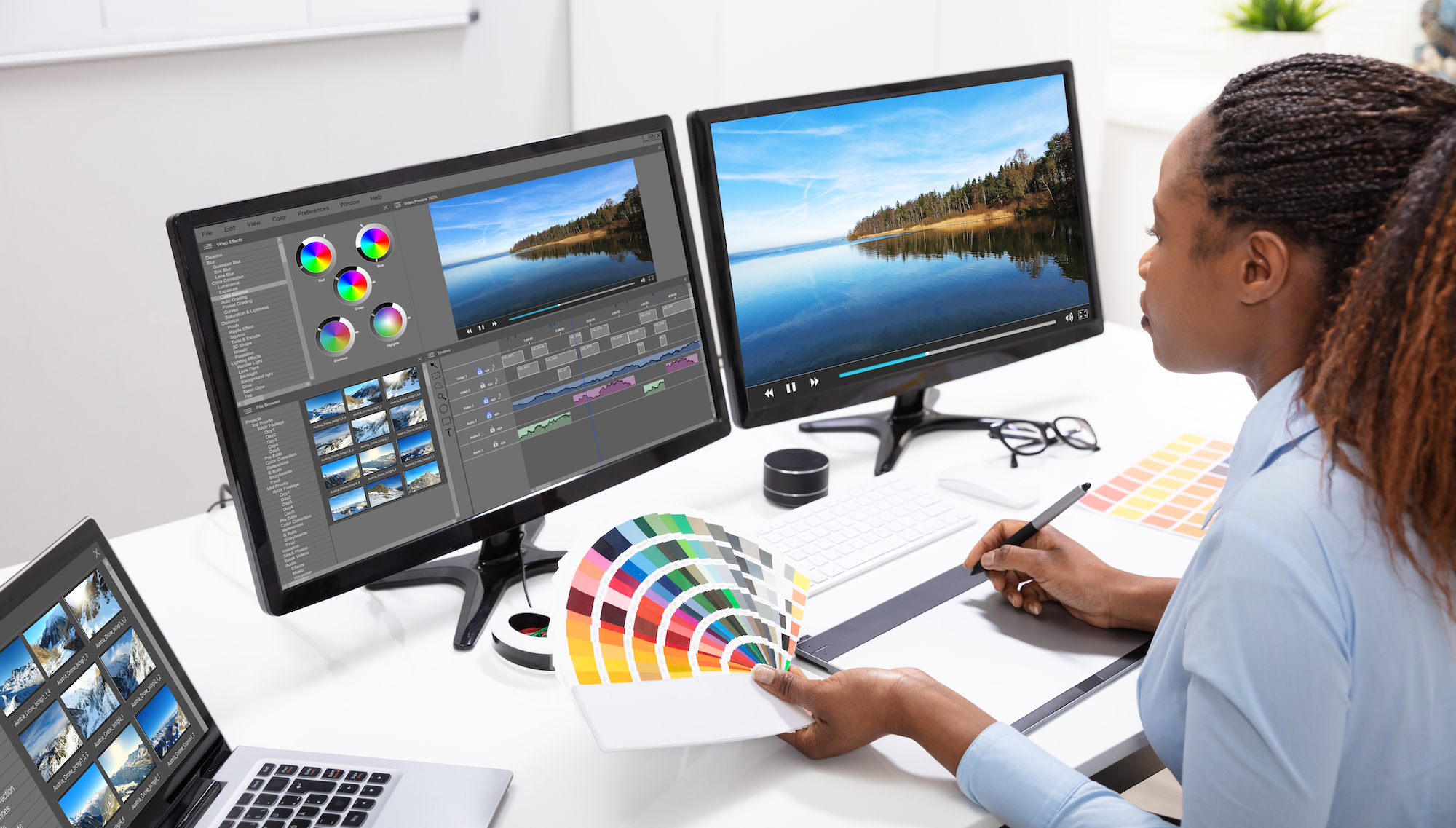 The Lumetri Color panel integrates into Premiere Pro as a new workspace for color correction and color grading. You can customize keyboard shortcuts to any of its features for quick access anytime during editing.
Premiere Pro Templates
One of the most significant benefits of Premiere Pro is the ability to create complex animations quickly. You can use templates in Premiere Pro to create music videos, Facebook and Instagram videos, adverts, and more.
This feature simplifies complex animations that might take hours to create by selecting a range of pre-built templates. You can customize these templates with your text and graphics or create your animation from scratch using the tools provided in Adobe After Effects.
Responsive Design
Adobe Premiere Pro's interactive timeline allows you to easily adjust your titles, graphics, audio, and videos on the timeline by speeding up or slowing down your content without affecting the audio pitch.
This feature may require some practice but once learned, it becomes easy to use. You can now shift clips on the timeline ahead or behind other clips, adjusting their speed automatically to fill in the gap created when moving them backward or forward on the timeline.
High-quality Sound Editing Capabilities
While many video editors offer basic audio mixing capabilities, Adobe Premiere Pro comes with high-quality audio mixing and editing capabilities. The software also allows you to add sound effects, music, or narration over your footage.
You can also quickly improve the quality of your videos by adjusting the volume levels of different parts of a clip.
Wrapping up
Choosing a video editing software that helps you meet your goals as a creative agency is crucial, whether that means quickly editing videos or working on longer projects requiring advanced tools like motion graphics. Adobe Premiere Pro allows you to do both by providing a feature set that will enable you to customize your workflows while offering powerful tools for professional-level video editing.