One best way to promote a brand is through water bottles. It helps the business to gain exposure each day by letting employees use the bottle that has the company name and logo. So then, potential clients will have an idea about the brand with less effort.
This type of drinking bottle is versatile as it can also be a gift for loyal customers. It could enlarge the target market and satisfy the customers at the same time. Choosing a branded bottle is easy because it is available in multiple colors and can be customized. Read this article to know the important features to look for and the benefits of a water bottle.
Advantages of Branded Water Bottles
Starting off with the edges of branded bottles against any drinking bottle. It is one of the best choices to complete the marketing techniques for your brand. This sort of water bottle adds up a value to the company as among the promotional items. Other benefits include the following:
1. It is Useful.
A water bottle is an everyday essential. It is not just a promotional item but most individuals find it useful. The material is long-lasting and is capable of daily use. It is safe to say that many clients are into promotional products as practical as water bottles. Fitness enthusiasts can take advantage of the item tosupport their lifestyle. It is an insulated bottle that can keep water cold or hot for a long time.
2. It is Cost-Efficient.
Purchasing water bottles in bulk will reduce the cost making it the best promotional item for your company. It is likewise attainable to personalize the bottles by paying extra to meet your demands.
3. It Boosts Brand Exposure.
Since a drink bottle is made for daily routine, there is a higher chance for clients to spread your brand wherever they go. They could bring the item to work, travel, and even to gyms when working out.
4. It is Eco-Friendly.
Instead of wasting plastic bottles, why not use a branded bottle to save the Earth? It is reusable to reduce junk in the environment. Nature is currently in danger and so the existence of water bottles is very timely to help it breathe.
Things to Consider When Choosing Branded Water Bottles
It is crucial to pick a water bottle appropriate for your business. Here are the features to keep in mind when choosing one:
1. Material Used
Water bottles are great for a wide range of uses which is why choosing the right material matters. Make sure to pick the material that suits your brand before placing a bulk order.
Having a brand promoting outdoor activities may opt for stainless steel material because of its durability. It can hold drinks at any temperature but is heavier than the other types. The surface of the bottle is stain-resistant and so easy to clean. Same with aluminum bottles except for leaving a metallic taste if used any longer.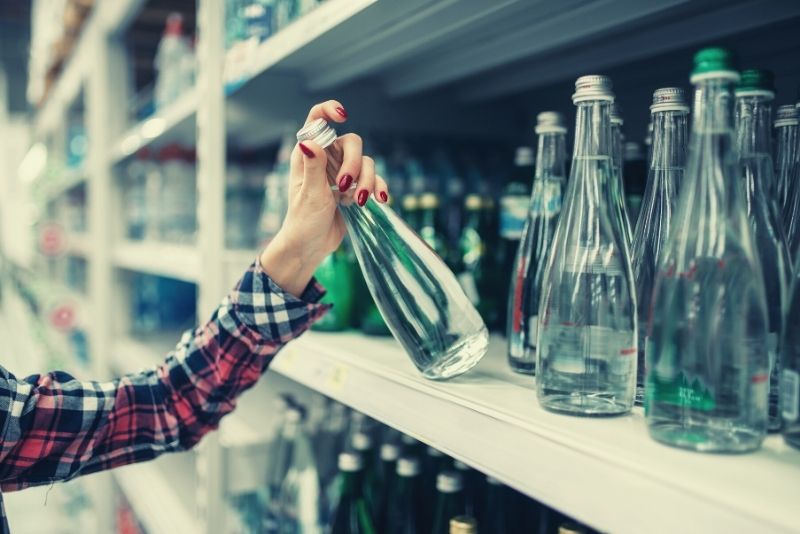 A plastic bottle is cheaper, however, not all plastics are recyclable. This is a perfect choice if you will add colorful prints to it. It is lightweight but cannot keep hot water longer.
Glass water bottles are elegant compared to the previous materials. It is ideal for storing all kinds of drinks at their best temperature. The drawback is its price and is not recommended for children's use.
Above all else, the material must be BPA-free for safer use.
2. Type of Lid
Considering the bottle's lid is also vital to your brand. It depends on several factors, such as the design and functionality. Select a lid type that eliminates the risk of leaking and promotes convenience.
A one-way valve type of lid has the best leak-proof feature and is inexpensive. This is great for outdoor activities and recurring sips. While screw-on lids look more elegant and are designed for deeper drinking. There are more lid types that you should know, such as the push-button, flip-top, straw lid, and push/pull spout.
3. Printing
Think of a logo that is eye-catching and reflects your brand. This requires choosing the right colors to make it stand out when using the bottle. Use a suitable printing method on the type of material used to enjoy its full features.
Adding up a slogan can help to boost your brand. Make it clear and precise. Avoid using complex patterns for it can add up to your expenses.
4. Other Important Features
Extra features will enhance the look of the bottle for better engagement. This is also to meet various demands of the clients, like adding clips to easily fasten the bottle during extreme activities.
Some clients are health-conscious and infusers can help to make drinks a lot more nutritious. It also sustains flavorful drinks for a long time. Leveling up the insulation capacity is also a good idea to provide the best drink condition. Lastly, users may find it more hygienic to drink from a separate cup.
Final Thoughts
Being able to find plastic bottle manufacturers to create water bottles for your company is important to guarantee a higher return for your entire business, considering high quality service at an affordable price. Look for manufacturers that offer eco-friendly materials to help promote business and boost a brand. Also, consider if they accept customized and bulk orders to meet your budget and needs. Evaluate the above features of a good quality water bottle to obtain the right item for you. Last but not least, investing in drink bottles is the best choice to preserve nature, so get started now!