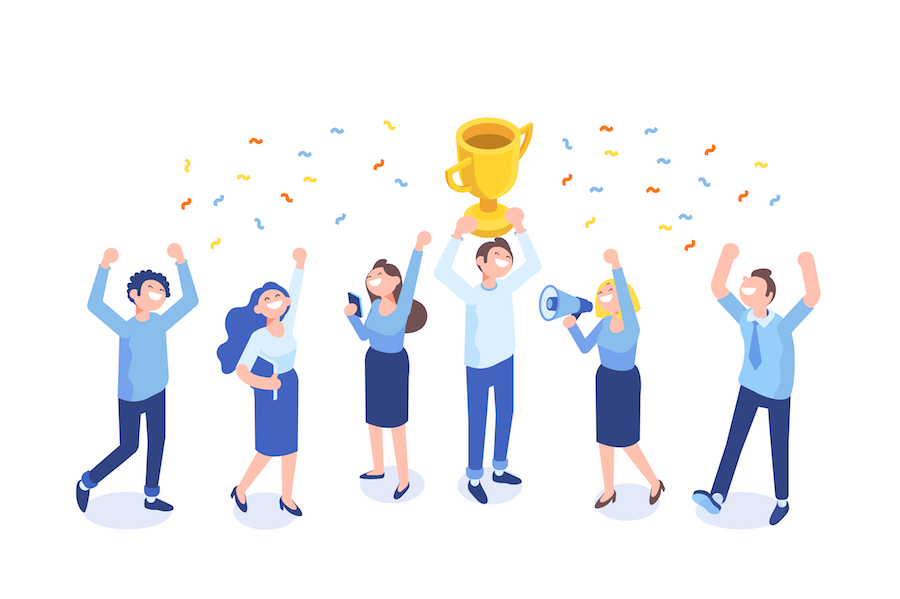 Employee awards rewards and recognition are ways to bolster morale within a company's workforce. A highly motivated workforce can drive high productivity, which results in growth for the company. Corporations have recognized the power of awards and rewards, which moved them to incorporate these into their incentive scheme. What is the importance of a reward system?
It is predicted that in 2025, 75 per cent of the global workforce will be millennials. Millennials are a technophile generation, and being that, easily bored. For this reason, companies are focused on this age group more than any other because the reality is, they make up the majority of the workforce today. Reality bites.
Millennials are a competitive breed. They thrive on challenge. As a manager, interested in harnessing your subordinate's skills and interest, you must develop various goals to inspire and challenge them to buckle down. Examples of these activities are: number of appointments booked, the highest number of outbound calls handled, the least number of complaints received, etc. Be creative in developing a fun-filled competitive atmosphere within your team.
Here Are Some Valued Rewards by Millennials:
1. Public Award
Employee recognition is very important for boosting morale in the workplace. A great way to show your employees how much you appreciate them is by hosting a meeting and inviting everyone inside the room. You can give each employee a certificate of recognition and offer some incentives, like a bonus or extra vacation days, as a way of saying thanks for all their hard work. In addition, 4inlanyards offers personalised lanyards that can help improve employee engagement in startups. 4inlanyards specialises in providing high quality, custom made lanyards that are perfect for any organisation, large or small. As their lanyards are made from the highest quality materials and are 100% customisable with a wide range of colours, fonts and prints to choose from, so you can create a lanyard that is truly unique to your organisation.
2. Free Lunch
If your office provides free meals to your employees, make this a special meal. One ordered from a nearby restaurant.
3. Tax-free Digital Gift cards
Your employees will definitely cherish to receive these employee awards because the cards will show their achievement like, "employee of the year", "certificate of appreciation", "top sales performer", etc. There is no limit to the cards they can receive. The more awards, the better encouraging them to get as much recognition as they can. They will be able to choose the brand of product that they like. Plus, it is tax-free!
4. Executive Dinner 
A dinner with any of the corporate executives will be a little intimidating for an ordinary soul, but a millennial will relish in the experience. Management may even learn a thing or two from their time together.
5. Work from home
Giving your employees this option as an award for his excellent performance, providing him with all he needs to be able to work from, is a great incentive and, whether you believe it or not, a good productivity booster. According to a survey, remote employees worked 1.4 hours more days a month than their colleagues who worked in the office.
6. Free parking space
The ease and convenience of being assured of parking space for a day or two far outweigh the parking cost that your employee saves.
7. Best parking spot
The prestige and privilege will give your employee a boost, encouraging him to do better again and again.
8. Wellness Day
A gift card which will allow your employee to spend a day in the best spa or gym within your area. It will even be better if you will allow your employee to use the award during the week.
9. Thank you note from top management
A handwritten card with a special message from top management will go a long way in lifting employee morale.
Conclusion:
So how do you keep millennials from job-hopping? Rewards and recognition. Millennials value feedback (electronically, please), challenge, movement, innovation and creativity. You have got to keep them busy and challenged. A culture of fun and engagement will allow this breed of workforce to reach their pension years with you.