If you have been thinking about opening an online pet store, there are many things to consider before you can quit your day job and start making a regular income. One of the biggest aspects to think about is what you are going to sell. Depending on your individual preferences and experience with animals, there are many directions you can take.
Pet Store Inventories
Before you invest in a fancy website or ideal POS for pet store, you need to decide what your inventory will initially include. Although equipment and online setup are essential, putting together a business plan and list of inventory ideas can help you focus so you do not end up wasting resources.
Food
When it comes to selling merchandise for pets, food is almost always a top essential for online shoppers. One reason for this is because brick and mortar stores often offer limited selections, and many pet owners want to have a wider variety of items to choose from.
Dry Food
Whether you decide to sell merchandise for cats, dogs or other animals, having dry food in your store's inventory is a must. In general, dry food offers pet and pet owners a couple of notable benefits, including help with maintaining dental health as well as convenience. For this reason, having an adequate supply of different brands and flavors in your store is a smart idea.
Wet Food
On the other hand, wet food is almost important. Because wet food has more moisture content, it can aid with urinary tract problems while also keeping pets hydrated. In addition, wet foods tend to have fewer carbs if pet owners are looking for a way to help balance their pet's weight. If an animal is not eating for one reason or another, wet food options can also help with that because most animals prefer it over dry alternatives.
Treats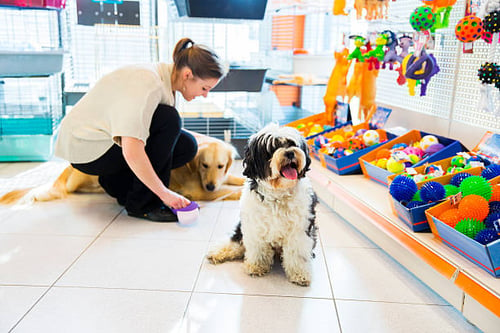 Besides having regular dry and wet food in your pet store inventory, you should also think about including a selection of treats. This is another category that has many options. Whether you offer soft and chewy treats, dental treats, biscuits and cookies, bones or training treats, there are numerous ways to meet the different needs of pets and pet owners by offering a variety of treat options.
Special Diet Offerings
Something else to think about is the need for offering food items that speak to the special diet needs of different animals. With cats and dogs, this is especially true as pets age. Whether a pet has allergies, dental issues or other types of special needs, offering unique diet offerings can help your online store stand apart while helping those who cannot find the food types they need locally.
Supplies
While food is a top essential, it is definitely not the only thing you can offer in your store. In fact, you do not even need to sell food if your pet store interests lie elsewhere. For example, maybe you want to focus on pet supplies rather than perishable items. If so, consider some of these items instead.
Toys
In many ways, pets are like people. They have basic needs such as food, water and shelter, but they also need to have fun and play. One fun category of merchandise to offer in your store is pet toys. This can be especially fun for dog and cat lovers who have big imaginations because there are many directions you can take with it. If you want to get really crafty and creative, you can even try creating some of your own pet toys.
Bedding and Decor
Dogs and cats can sleep almost anywhere, but there are benefits to giving your furry friend his or her own bedding space. With this in mind, consider offering unique pet beds. Whether you sell cushion styles or cat trees, there are numerous options to choose from. Similarly, smaller pets such as fish also need a place of their own. For this reason, pet owners also look for different types of decor such as artificial plants when they decorate a fish tank for their water-based pets.
Opening an online pet store can be a lot of fun, but running a successful business requires careful planning. Make sure you are off to a great start by making time for reflection and using this list as inspiration.